Showroom
Strömshaga Showroom Spring 2022
Strömshaga Showroom is now open for retailers.
Book a visit to 
our exhibition and discover the spring news together with the rest of our collection.
Book your visit here.

Our showroom is located in Floda, 20 minutes outside Gothenburg, Sweden.
We offer our retailers a free night at

 

Clarion Hotel Post

 

in the center of Gothenburg in connection with your visit and order placement in our showroom. Also lunch on the day you visit our showroom will be arranged if wished.

We follow the Public Health Agency of Sweden (Folkhälsomyndigheten) restrictions and will have a limited number of visitors at the same time. Our showroom is large, which makes it easy to keep distance. Hand sanitizer and face masks are offered on site. We perform regular cleaning of spaces and surfaces.

Book your visit through the link above. After completed registration, we will contact you to confirm your booking and give you a time and date for the visit.

We look forward to meet you in our showroom!
Visiting adress
Strömshaga AB
Skallsjövägen 36
448 32 Floda, Sweden


Virtual Tour - Showroom
Due to Covid-19 most of our customers can't visit us in person, but don't worry - you can experience our showroom from home by taking a virtual tour. Click the link below and walk through our showroom.
To the virtual tour.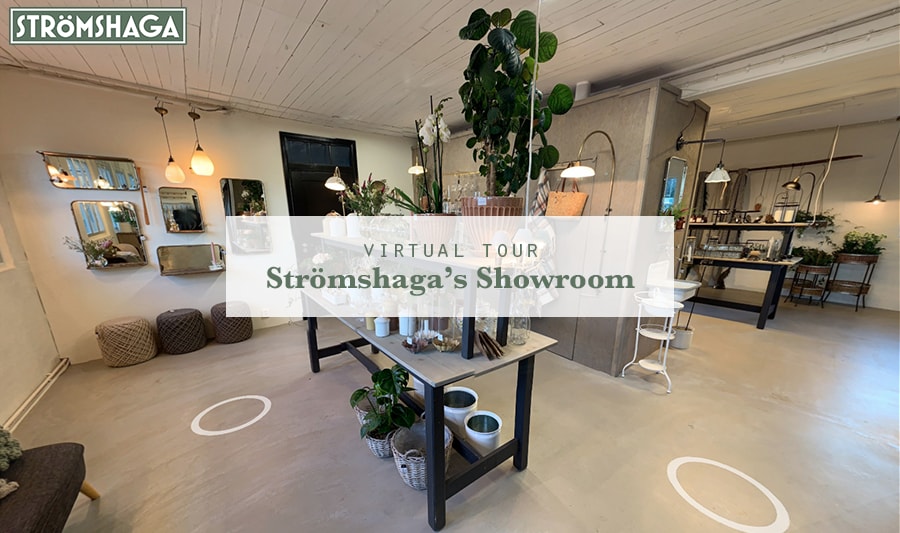 The digital showroom works as a complement to our catalog and webshop where you get an overview of our collection.
Book a

digital meeting for a 

guided tour and order placement with someone in our sales staff.
Contact our customer service and they will come back to you with more information.

Book a meeting